Im sorry for the inconvenience, but I am currently closed for a workshop and website remodel. We will re-open in April 2011.
Piluzo's shopping cart will be unavailable until that time. The look and feel of the website will stay pretty much the same, but we're adding some new shopping cart features.
Please feel free to browse around the site and check out the trim choices.
There are tons of great dog photos in our Collar Gallery and fun photos and stories in Gracie's "How To" & Hound Funnies Section.
If you'd like to join our mailing list for updates on new trims and our re-open date, click here
Please enter "Mailing List" in the Subject field and hit "Send".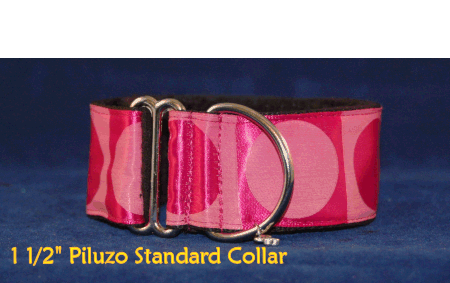 Click on a size image below to start shopping!
Why Piluzo™ Collars? We hand make each custom collar to your order specifications. We use strong, but lighter weight hardware and webbing. This gives your hounds a wide, beautiful collar that fits properly and provides neck protection - Great look, secure collar, no heavy hardware.